Our sixth NPC has been unlocked! Check out our kickstarter here!
You can read Damocles' fiction here.
In Middara, these NPC's play key roles in the story. Depending on the adventurers' performance and decisions, some of these NPC's may die and some may live, but each has the potential to affect the outcome of the game.
Each one of these NPC's comes with rules to play them as a friendly NPC, an antagonist, and an adventurer.
His passive ability on his standard attack allows Damocles to inflict wilt on his enemies with ease, and Ring of Blood will heal him with every one of his attacks.
Combined with Precise Execution, Damocles can heal an impressive amount if he hits with all three attacks.
Hell Strike is best used on single targets that you can't otherwise hurt, particularly antagonists with a lot of armor.
Imposed Paradigm gives him some mobility as well as some very useful table manipulation.
As an antagonist, Damocles' ability to wilt and heal will become an immediate challenge for adventurers.
Assuming he doesn't have barrier, Damocles will open up his turn with Barrier. If he can, he will use his Imposed Paradigm ability to swap places with another antagonist. This makes pinning him down nearly impossible for lower level adventurers.
If he gets ganged up on, he will unleash a devastating attack that heals and causes wilt up to three times against adjacent adventurers.  But, if there is only one adventurer adjacent, he will instead use Hell Strike to deal one massive blow.
At engagement range, Damocles is the least dangerous. He will simply move up and attack.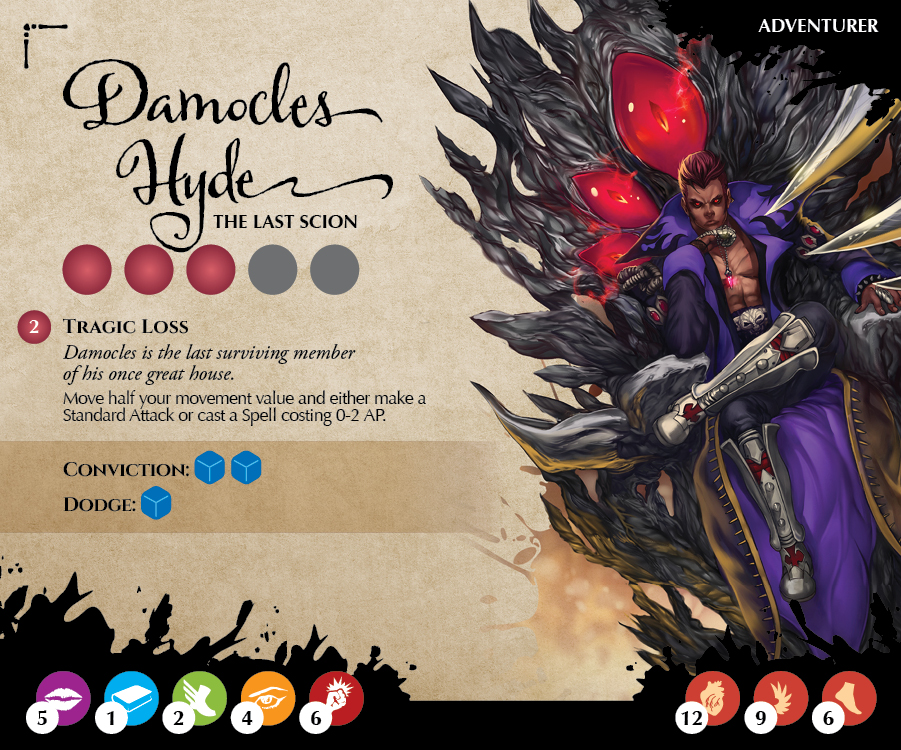 When used as an adventurer, Damocles has a very unique ability. He can spend two action points to move up to half his movement (3) and make an attack or cast a spell costing 0-2 AP. This allows for hundreds of combinations that are unique to Damocles