Hey all! We have some new tile art to show you this week. Alex is nearing completion of the last area of the game, and it is looking really great. See for yourselves.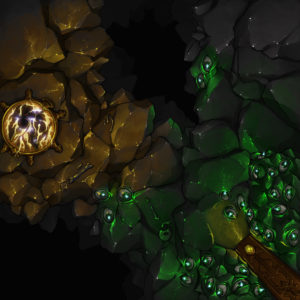 Super spooky…. Anyway, we are grinding through the game in our playtesting, and things are getting interesting. As a sneak peak, what we are ironing out at the moment are the details of Dual Encounters and times when the Adventurers split up. We want to always have 4 playable figures so no one has to sit out, because sitting out is no fun! This part of the game gets pretty twisty as far as the story goes, and we want to make sure that we do the heavy lifting to make things play as smoothly as possible.
I don't want to give out too many spoilers, but who is with you and what they are doing can change a lot based on your previous decisions. This makes things a bit complex on the design side, but hopefully it will pay off in a big way. We are really excited about how it's shaping up!
There is one more thing that we wanted to mention today. We will be sending out links to the pledge manager again in case people can't find them or need to fix something. If you have completed your order, then it will just take you to your order confirmation screen. You don't need to do anything else. If you have not completed your order, then it will take you to the pledge manager.
We hope everyone had a safe and happy New Year. Here's to 2017 being excellent!
The Succubus Team