Hey all, this week we've been pushing forward on many fronts including tiles, story and playtesting. We've mapped out the majority of the story into a layout to help us and our writers to parse the information more clearly. It's quite large and complex, but for players it should be easy to navigate as you will be directed to only the specific story moments (etc.) that you've qualified for. Check out the pic below of the printout: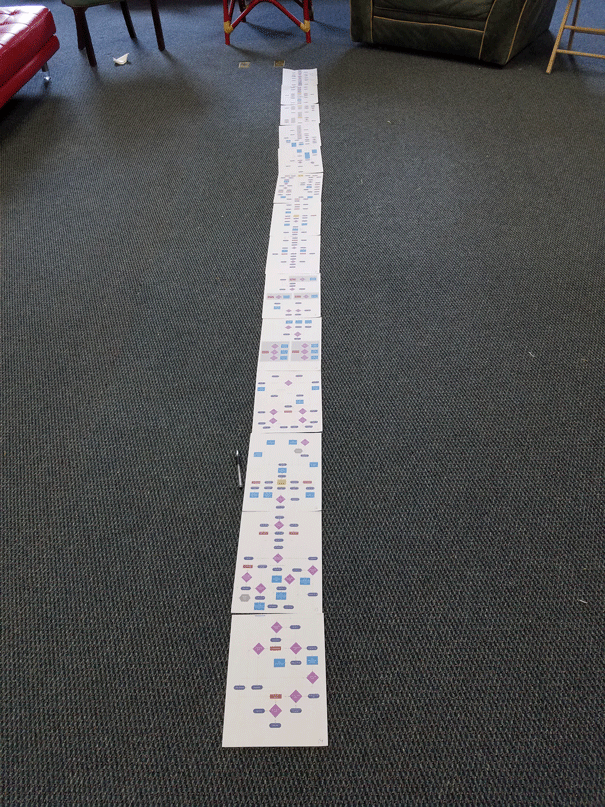 Each node represents either an encounter, a story section, a flag, a story round, or gaining a story specific card. There's lots of story to look forward to when you get to bust open the game!
Playtesting
We had our playtesters over a couple of nights this week, and after a disappointing first day of defeat, they were able to overcome (just barely) the encounters they faced during the second day. We've been getting some really great information for balance from these playtests and we have been implementing tweaks from their experiences.
Tiles
Stephanie has returned some of the tiles with the new grid system and after some (much) discussion of the grid, we have decided it needed some tweaking. Luckily Stephanie is awesome and was able to get the changes made on a few tiles so we could show them off to you today! Enjoy:
Miniatures
We wanted to let people know that all our CAD's are now optimized for injection molding. Currently we are working with Ninja Division to make sure that they will work with their manufacturers. We're still waiting to hear back from Prodos miniatures on a quote using their unicasting process. They're doing a game on Kickstarter right now called "Load" and it's also being published by Ninja Division. You can see their miniature quality on the Kickstarter here. Also, the game looks pretty cool if you're a fan of MOBA games, so we'd urge you guys to take a look at it in either case.
Salt Lake Gaming Con
Finally, we wanted to give a quick reminder that we'll be at Salt Lake Gaming Con next weekend so if you'll be around come check out our booth! Our booth number is 2502, please stop by and see the game!